Directory
Search the VT directory from your phone
Searching the Directory
Members of the Directory
The directory only contains individuals that have an Avaya phone and whose information has been put in the Avaya system. For this reason, certain names might not appear in directory search results.
Press the Contacts button.
Press the More softkey.
Press the Search softkey.
Use the dialpad to enter the first name and last name of the person you want to search for:
Select a different field by pressing the Up Arrow or Down Arrow of the navigation wheel.
If you want to delete a character or number from a field, press the Bksp softkey.
Enter letters into fields by pressing the appropriate dial pad button.
Press the Search softkey.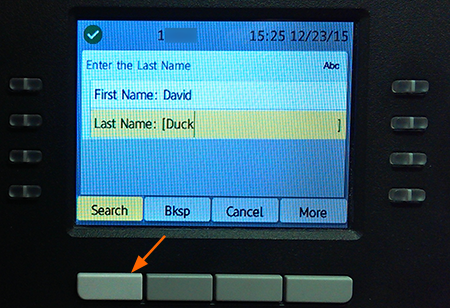 If multiple results were returned, use the up and down arrows of the navigation wheel to select the contact for which you searched.
You can then press the respective softkey to call the person listed, view the details (such as numbers), or add them as a contact.